Burj al Arab is one of the most luxurious hotels in the UAE and we had the chance to work with the lovely Carlotta Conca  (www.lustforthesublime.com) during her stay here in Dubai.
Carlotta is an Italian Luxury Travel blogger who has travelled in the most beautiful places around the world. She documents her stays in different hotels, resorts, travel spots for people who might want to come to those places. She also features the food, transportation, the night life and activities in the places that she goes to in style.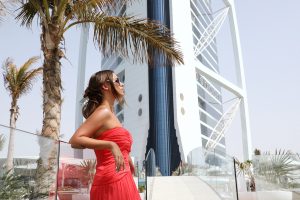 We were so pleased when we got an email from her indicating that she was going to be in town for a few days and she needed a photographer to document her stay at the Burj al Arab. So for us to be able to work with her is such a great honor.
We got to the most luxurious hotel in Dubai at the given time and made sure we had everything we needed. Brushes, makeup, hair tools, and our cameras. Huge glass doors and gold embellished walls, furniture, and rooms greeted us upon arrival.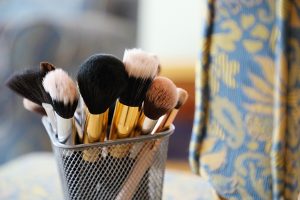 We brought the whole crew with us from YH Studios, one of our instructors from The Lipstick Makeup Institute, and our Platinum Makeup Course student.
As an institute, we make sure we bring our students to location shoots to experience real life scenarios as a makeup artist. We give them tasks, even just assisting, so they know what to do in situations like this in the future.
The student was able to complete the look with the help of the instructor for both makeup and hair. The student also assisted the model by retouching her makeup throughout the shoot.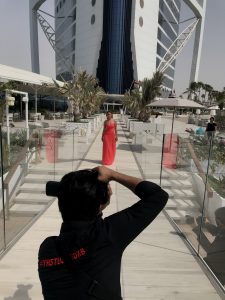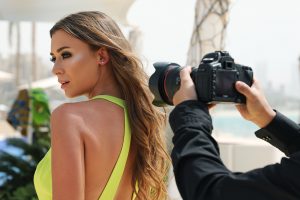 We ended the shoot by celebrating a little with a few snacks and drinks at her hotel room.