For the full contouring and highlighting we can use liquid foundations or cream products.
The queen of all contouring  and highlighting is Kim Kardashian and she is sharing her tips and trick with us:
Don't be afraid to contour more of your nose than you think is necessary. Not only is Kim's nose shaded from the browbone all the way down, but most of the skin on her nostrils is shaded as well. This will create a serious slimming effect.
Always highlight down the center of your nose. A perfect contour is nothing without a highlight! You should create a stripe of light color down your nose, starting from between your brows down to the tip. Keep the line steady and symmetrical, but feel free to play with the width (depending on how narrow you want your nose to appear).
Add subtle shade to the tip of your nose. You have to look very closely to see this, but the end of Kim's nose has a bit of contour on it. This will prevent your nose from looking too long. However, you should skip this step if you have a short button nose.
Use matching contouring colors in the hollows of your cheekbones and around your forehead. Everything should look natural and seamless — using the same products and shades will prevent any weird mismatching issues while balancing your overall look.
Finish your contouring look with a bit of shading along your eye sockets. This will complete the illusion of goddess-level bone structure.
Don't forget to blend! While you do want to maintain the integrity of the lines you've created as you buff them out, they should not look like actual lines drawn on your face.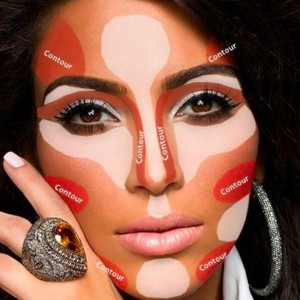 Tip of the Day: Use your beauty blender or sponge to blend the contours and highlights