Institute – In the past 5 years, makeup has exploded exponentially across the world. You can see more creativity from the effects of social media such as Youtube and Instagram. We see new brands popping up everyday trying to get involved in this industry.
Institute – We also see more people who want to get involved in the the makeup world as makeup artists. Some use Youtube as a tool to learn, some pay to go to different masterclasses, and some go to proper makeup institutes to jumpstart their career.
In our institute, we've come across students who went to other schools and paid thousands of dirhams only to know that they didn't learn anything. They don't even know how to hold a brush properly. It's really sad since they've paid so much money to learn and in the end they are cramped in a space with 25+ students and 1 teacher. They are only entitled to do 2 professional photoshoots and most of their time is spent on paperwork and face charts. Our faces are not made of paper – we are three dimensional.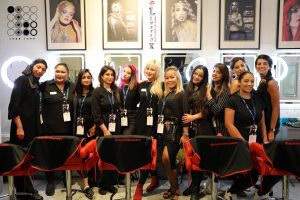 Here in Lipstick, we make sure that our students get the most out of what they pay for. We teach them everything from makeup basics, trade secrets and even how to deal with clients. They get to work with real models and normal people so that they know how to create, enhance and transform each individual. Our goal is to be a world class makeup institute and to showcase our graduates' skill level after they finish learning with us for 6 weeks.
We've had graduates who are now business owners, well-known in and around the middle east and the ones who have gone back to their home country and still pursuing makeup artistry for themselves.
Follow us on Instagram: