Creative Fantasy Makeup at Lipstick
Creative makeup at Lipstick gives the students an opportunity to get really imaginative.
Doing Creative makeup it is crucial to begin with a good concept. Students must understand that they must plan their idea for the results to be successful.
Creative Fantasy Makeup
Fantasy and creative makeup means you can include all sorts of embellishments onto the face. At The Lipstick Makeup Institute we have all sorts such as feathers, gold leaf, crystals, shells, flowers and much much more, we have seen some outstanding work from our students.
The students that pick a 'theme' really create some of the best work.
The strokes in the shot below look random but what an effect it makes this is because its so different. Different why? want to join our school? get taught by the best?
Firstly its unique. Even if you try to copy it, it will not be the same.
Secondly, its original. Creative Fantasy Makeup at Lipstick is just that. Its Creative fantasy makeup. We teach what we are supposed to teach. Our teachers love their work.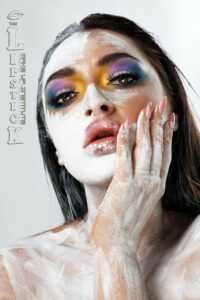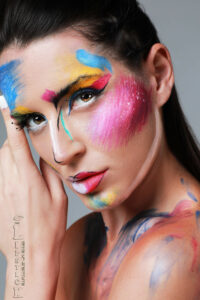 Some popular themes to get the imagination running wild and are, skulltress, underwater, fire/ice, seasons, rainbows, fairies/fantasy creatures and characters. What do you think?
Because give the freedom to create to the students, I am so proud of what they achieve. #supercreative
The creative side is in everyone and it just takes a little push to get it out but be creative.
Freedom to experiment at The Lipstick Makeup Institute
The pictures and videos you can find on our Instagram and Facebook pages.