Mr. Dubai 2019 sending Good morning to everyone.
Mr. Dubai and our team had an amazing day full of fun and joy. As usual from early morning our lovely team was ready to do some incredible pictures and videos for a new campaign. Handsome model of this day was MR. Dubai 2019 – Max Fardan. The Lipstick Makeup Institute student of the International Platinum Media Makeup Course was the one who did awesome Naked Makeup for our celebrity.
The first location of the day was in a gym, from where we moved to one of best beach shores in Dubai. Regarding to the concept the body makeup was based on contouring and highlighting . With such kind of job you always need to have in your kit spray with water and body oil. Body oil on the sun gives beautiful reflection of the light. That's enhancing your highlighting areas. At the same time water allows you to achieve healthy wet look. Our student did great job and didn't leave model even for 1 min. That's the true behaviour of the real Professional MUA.
Pictures were captured by one and only YH Studios Dubai, our Award Winning Photography sister company.
Here is one more prove that such kind of experience you'll be not able to find somewhere else.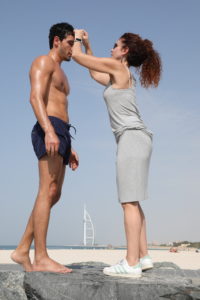 Follow our pages in Instagram and Facebook to see more. You'll find there live videos, updates from Fashion Industry and grab some makeup tips.
Don't miss a chance and book your course under discounted price. Become Professional International Makeup Artist in 6 weeks. Next course starts 1 March 2020. By the end of the course you'll qualified enough to enter Back Stage Lipstick Makeup Team for Arab Fashion Week. This Season 10 is universally for Arab Fashion Council. It will be something phenomenal. Are you ready to start your dream journey?
That's a short blog about our AMAZING begging of the week. Hope that yours was same.
With love,
The Lipstick Makeup Institute & YH Studios Team.