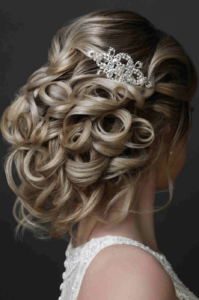 Want to learn Hairstyling Hair Styling at The Lipstick Makeup Institute
Hair styling is taught at the beginning of the makeup course so that students get to practice all the basics.
Students learn how to section, straighten and curl the hair first so that they are prepared to work on all types of bridal hair, glamorous ups do's and fashion hairstyling. Throughout the course they learn how to apply these skills creating beautiful hairstyles alongside their makeup looks
Hair Styling at The Lipstick Make up Institute
Basic hairstyling is taught everyday, because becoming good at the basics is key to learning more complex looks. Being professional in both hair styling and make up skills is top priority at The Lipstick Makeup Institute.
Students must think about the complete look so that they can calculate how much time they will need to complete both hair and make up.
To become effortlessly good they must practice, as a result they will get booked time and time again.
Students master the basics in period hairstyling throughout the Platinum Course for instance, 1940's pin up girl, 60's beehive and Marilyn Monroe curls.
The pictures and videos you can find on our Instagram & Facebook pages.
http://www.instagram.com/thelipstickmakeupinstitute
If you have a strong passion for makeup and hair and want to be a pro, The International Platinum Makeup Course is for you!
MASSIVE Discount for our next course
This course is for 3 weeks. Timing is from 10AM to 4PM.
Please feel free to contact us via phone call, email or WhatsApp
Contact number & WhatsApp: +971 52 8497972
Stay tuned and follow our pages on Instagram and Facebook because You'll find there videos, updates and grab some makeup tips.
http://www.thelipstickmakeup.institute/
Don't miss your chance!
The Lipstick Makeup Institute giving HUGE DISCOUNT on our Professional Makeup Course. Don't miss such a great opportunity and book your seat now 6 students in a group.
Next course starts on 12th September 2022
With lots love your Lipstick Makeup Institute Team.
Regards