Makeup Diploma Color Theory
OLIVE SKIN
Makeup Diploma Color Theory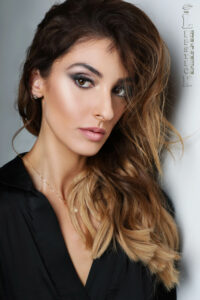 As we move from the Northern Europe to the Mediterranean, skin assumes a darker colour with olive, beige and brown undertones. Hair is normally dark brown and eyes are generally brown or hazel. The skin is normally smooth, may be oily and is generally somewhat insensitive to the sun. Makeup colours that works well complement the underlying skin tones and are warm in character.
Brown – reds such as ochre and sienna can be used for lip colours, bronzers and for eye makeup. Olive green can also be used for eye shadow. Apricots can be used to brighten the cheeks.
Similarly women with a Mediterranean complexion will have dark areas under the eyes. Try a concealer with hints of peach to disguise these areas. In between the porcelain skin of Northern Europe and the olive skin of the Mediterranean, we find intermediate skin colours and tones. Skin can have beige or honey undertones with hints of red. It tends to be sensitive to the sun. Browns with hints of orange or yellow, very lightly applied, bring out the underlying skin tones. Lips can be peachy or golden brown. However eye makeup can be yellowy brown.
ASIAN SKIN
Basically asian skin typically has a golden colour with brown or orange undertones. Foundation that has a base of yellow / gold suits this skin type. Earthy browns and green suit the eyes. Oranges and corals might suit the lips or, if applied lightly, can highlight the cheeks. Gold bronzers match the basic skin tone.
PORCELAIN SKIN
Therefore Very light, translucent porcelain skin is found in Nordic and Celtic people. The eyes may be blue or green and hair blonde or red. Celts may have freckles are increase by sun.
Overall undertones will be typically cool with hints of blue. Skin colour matching foundation, peach blush, lips should be pink for the day wear and dark reds with a hint of blue for the night. Eye shadow can be chose to coordinate with iris colour.
BROWN SKIN
Generally Brown skin may have beige, olive or red-bronze undertones. The skin colour is very attractive in itself. Stay with natural look that largely matches the brown colour. Foundation can complement the underlying skin tone so a hint of red or ochre works well. A hint of pink on the lips and the cheeks can enliven the face. Use a little shimmer on the lips. For the eyes, use a brown a little lighter than the dominant skin colour for day wear. Overall for the evening, add drama with blues and lilacs.
MULTI – ETHNIC SKIN
While throughout the history, people from different geographical areas have been meeting, marrying and having children. This created new looks, skin colours and tones – very often looks that are strikingly beautiful. As a makeup artist you will see clients whose parents have different ethnicities and race.