PROFESSIONAL – We are very excited to announce that The Lipstick Makeup Institute in partnership with the Arab Fashion Council our newest program. The Three Week Professional Platinum Media Makeup Crash Course.
PROFESSIONAL – In this Course you will learn the basics – advanced makeup application. Whether it be in the beauty field or the fashion industry you'll be ready to go and be certified. Students who will join this course will have the benefits of the Professional Platinum Media Makeup Course.
You will receive the Platinum Diploma, 5 Professional Portfolio Photos with Models. You will also get discounts to various makeup brands such as Makeup Forever, Kryolan, Grimas, Inglot and others. You'll get to be part of the Lipstick Team together with the Arab Fashion Council. Work at the Arab Fashion Week, trunk shows, and events.
You will also benefit from working with us on fashion editorial photo shoots, corporate shoots, and others. Since we have a working Photo Studio — YH Studios. We will be able to give you paid and unpaid jobs. This can be of help when you are still starting out to build your portfolio and your network by inviting you to different events and masterclasses.
The course will start on the 24th of November, 2019. From 10am to 6pm, Sundays to Thursdays for 3 weeks. This is perfect for people who want to get certified in professional makeup artistry in a short amount of time.
The price is 15, 750 AED (that's 10,000 plus of discount from the 6 week course) and as mentioned above, you'll get the benefits of the Platinum Makeup Course and so much more. We are so excited forthis and we hope that we can be a part of your makeup journey and help you kickstart it.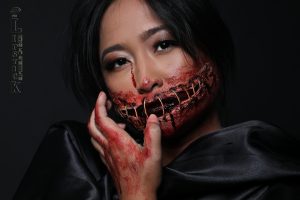 Please visit our Instagram Page to see our students work: