Trunk Show at 1422 – A new season, a new collection. The Arab Fashion Council will be holding another trunk show together with The Lipstick Makeup Institute Team. It will be held in the Arab Fashion Council Head Quarters in City Walk.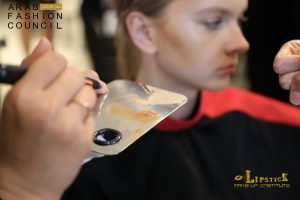 Trunk Show at 1422 – Our team is doing makeup for the trunk show with the Arab Fashion Council. We are very excited about this. Our team will be backstage taking care of the models before the show. Making sure that they're ready before they walk out clad in beautiful garments made by world class designers from the region. As the official backstage makeup team, we strive to showcase our talents and skills no matter how big or small the event is.
We'll be using the cosmetic products provided to us by Makeup Forever Middle East. They have been gracious enough to sponsor our Institute with their amazing products.
Also, if you haven't read our previous blog, we mentioned that we're having a crash course on the Professional Platinum Media Makeup Diploma Course. We're holding this course for three weeks intensively – like a boot camp. The students who will be joining this course will be receiving the benefits of the Platinum Media Makeup Diploma Course. They will be receiving the Platinum Diploma and will be completely certified, discounts from various professional brands like Makeup Forever, Grimas, Kryolan and others. As a student, you'll also work with professional models for your portfolio of 5 photos. This will help jumpstart your career in the makeup industry.
Apart from this, you'll also be a part of our amazing team working on big events such as Arab Fashion Week, different trunk shows, and more. You can also be a part of some professional editorial photo Shoots.
Please have a look at our Instagram: