Last day is always the hardest yet fulfilling day of the courses. The students were tasked to do an Instagram Glamour inspired Makeup with a twist.  As their last photoshoot, they did their best to create their final look as impeccable as possible.
Choosing an inspiration online for their last look was a daunting task but they were able to pull it off. Checking popular 'makeup gurus' online made them feel confident about doing their task.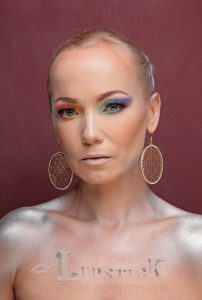 How to mix and choose colours and create shapes are the first thing that our students learn in The International Platinum Media Makeup Course. In this final piece, they're applying everything they've learned from choosing a foundation colour, checking the skin type, and choosing colours that would suit their model's eye colour. They also had to apply contouring and highlighting according to their model's facial shape. They also learned how to draw their model's eyebrows, eyeliner and lips, doing an ombre lip, and lots of other things that they've learned.
Things that they've been struggling with in the first weeks they were able to achieve on their final week of photoshoots. As earlier during the week they did other shoots like the No Makeup Makeup Look and Makeup for Mature Ladies. They also did Evening looks, Glamour, and Arabic makeup. Special FX, Creative Makeup, High Fashion, and Creative Instagram Glamour Makeup were last. All of which they had to conceptualise by themselves prior to the shoots.
The students gave it their all during the final leg of their course making sure they were able to finish their looks on time. The students also stayed with the photographer to check how their models look so they can do any touch ups if needed.
That was really a fun week!