All about eyeliner!  What's that you say? You already know all there is to know? We thought so too. That is until we learned these 8 unique tips, tricks, and facts.
We will guide you as to what is the best eyeliner to use and for what occasion.
Get it right and you will look amazing but get it wrong and an in perfect line or application then it will spoil the whole look!
1. White eyeliner can make your eyes look more awake. Swap your regular black pencil for white when you're looking a tad on the tired side and say good morning to brighter eyes.
2. Dark eyeliner was actually created, in part, to protect people from the harsh rays of the sun. So, if anything, you have an excuse for owning ten identical similar shades of black eyeliner. But don't forget: there's no substitute for SPF!
3. Winged eyeliner can be worn on both top and bottom lash lines—at the same time! Choose two contrasting colors for an edgy makeover and read this tutorial for instructions.
4. Ever mess up on your liner look (hello, eyes that are suddenly two different sizes)? No worries, simply apply makeup remover to a Q-tip to erase the error without smudging or starting over.
5. Connect the dots instead of sweeping liner on for more precise results. Just dot with cream liner and connect with a smudge brush for perfect liner, every time.
6. You can use more than one eyeliner color at once—trust us. In our Rock Doll makeup tutorial, Emma Willis shows us how to rock three liners at once for a dramatic evening look. Try it out and report back!
7. Purchase a less-than-effective eye pencil? Instead of returning it, take a cue from ladies of the 80s: swipe it over an open flame to heat it up and it will glide right on. Quick tip: this trick works well for dramatic liner looks, too.
8. Getting a winged eyeliner look is way easier than you think. Choose which two-step process is right for you and voila—pro eyes in seconds!
9. Waterproof Mascaras.
Waterproof liquid liner enables you to create a variety of eye-opening effects—from thin, precise lines to thick, dramatic looks. The formula glides on with ease, dries quickly and won't smudge or run day-into-night.
The fine marker-like tip offers precise application for everyone from novices to pros and results in beautifully defined eyes that will leave a lasting impression.
Benefits:
Waterproof and easy-to-use
Goes on smoothly without skipping, smudging, or pulling
Lasts all day long!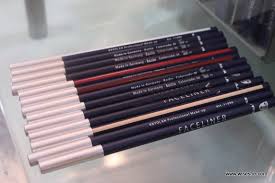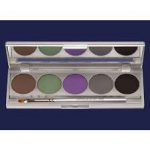 Stay tuned for tomorrow as we discussed all about Smokey Eyes!