Learn Halloween Makeup Look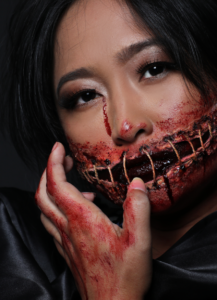 Learn Halloween Makeup Look :
Do you wan to learn?
Halloween is a beauty junkie's favorite time of year and for good reason. Most people think costumes and candy but we think, MAKEUP!
You want to lean at The Lipstick Makeup Institute?
Halloween is the perfect chance to get creative with your cosmetics, but choosing the right products for this evening can be tricky. Get tips from the pros below and be sure to tag your Halloween makeup looks with #GloHalloween on Facebook or Instagram for your chance to be featured!
Use Long-wear Makeup
"If a client asks for a Disney Princess, a mermaid, a sugar skull, a pinup girl or any other full-on glam look, I get so excited! It's a great reason to use my go-to, long-wearing use products to build a bullet-proof base for color that will last all night."
Favourities application
Her favorites are Under Eye Concealer for color correction, Satin Cream Foundation for flawless skin, Luminous Setting Powder to set the look and Pressed Base for both base and contour and learn halloween makeup look.
Scarey?
There's nothing scarier than makeup that doesn't last all night long.
Shop Your Own Makeup Collection"Be creative and reinvent new combinations of what you already own with the makeup you have. Improvise and think outside the box. But most importantly it's your art so allow yourself to have fun."
Always look lip blushed!
Never have an occasion to bust out that red lipstick in your collection? A red lip can easily be incorporated into variety of Halloween makeup looks from vampire to pinup glam.
Costumes
If you need a last minute Halloween costume, liquid eyeliner can work wonders. Craft a Halloween costume with nothing more than liquid eyeliner nose and whiskers, and top it off with a headband with paper ears attached.
Preparation time
How long do you prep?
When you have more time and preparation, the possibilities are endless! Zombie, vampire, mermaid, deer, Barbie, you name it. Get creative! Learn Halloween Makeup Look
Base Your Look on a Photo
starting your Halloween makeup application with a solid base. "I always use the Face Primer…with…Tinted Primer."
Recommendations
Deanna also recommends taking your time and mirroring your look off of an inspirational photo. "I find the more I dissect a picture or inspirational photo, the more details pop out. Also, always do a trial run. It always comes out better the second time around!"
Do you use Pinterest?
Pinterest is our favorite source of Halloween makeup inspiration.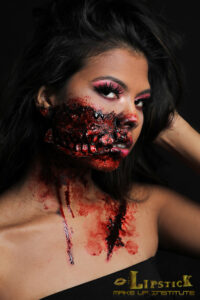 Our Favorite How-To's
You know these?
Learn Halloween Makeup Look
Sandy from Grease
Holly Golightly
Evil Queen
Daisy Buchanan from The Great Gatsby
Mary Poppins
70's Beauty Icon
Iconic Beauty.
in Platinum Makeup Diploma. Become a professional makeup artist in 3 weeks.
Want to join?
contact us : 052 834 9964