We can easily say that contouring and highlighting is one of the biggest  trends in makeup although contouring and highlighting is a part of a makeup application for a long time.
What is contouring and highlighting? 
With  contouring and highlighting we want to bring back the 3D look of the face, to give more dept on the contoured areas and highlight the highest point of the face.
When you apply foundation on the skin it covers the blemishes and refreshes the face but at the same time it kinda wipes off the features and shapes. With  contouring we can give more dept and shape to the face also because we are shading the contoured areas will look optically sharper and smaller.
For contouring we are using a greyish – brown colour as we want to make it look the natural and real as possible. This colour can be 3 or 4 shades darker than our skin colour.
Highlighting is a process of enhancing the face areas where the light "hits the face".  The highlighted area  is lighter and optically looks wider and bigger. Usually its the centre of the forehead, under the eyebrows and under eye area, top of the cheekbones, bridge of the nose, cupid bow and centre of the chin.  The colour can be 2 or 3 shades lighter than our skin colour depends how intensive we want to go with it.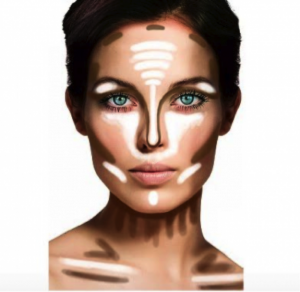 Tip of the day: if you don't know where to contour your face, all you need to do is to check your face in a natural light in the mirror. The shadows on the face will show you where  you have to contour. Generally its the hairline on the forehead or the temples, eye socket, nose, under the cheekbones, jawline and chin. Don't forget the contours are changing as the per the face shapes and they are never straight. Also keep in mind that when you are contouring you are shading so the best contours are more shadows on the face perfectly blended and smoothened out not harsh lines.
Stay with us tomorrow as we will talk about contouring products in details