We all know our favourite liquid foundations which are  giving a light to medium coverage.
But what should we do if we are struggling from skin problems, dark circles under the eyes, scars on the face ?
The liquid foundations coverage is not strong enough.
This is the moment when we will choose a cream foundation to cover and correct all these skin problems and correct the skin types.
We will talk about the Kryolan Cream foundations.
For the first time you will say no, Kryolan is a Professional Stage Makeup and its only for stage or TV.
It is for makeup artists but if you know exactly how to use the products you can easily use them on a daily basis.
Lets do a quick and useful review of our amazing foundations:
Supracolor is an oil based moisturising cream foundation also known as greasepaint. Perfect for normal to dry skin and for the mature skin. The best to apply with a wet sponge by dabbing for a full coverage, glossy finish.
2. Dermacolor as a texture is a bit dryer than the Supracolor. Specifically made to cover the different skin problems, discolorations, tattoos and scars. Can be used for all the skin types. Application with wet sponge semi glossy finish with a full coverage.
3. Ultrafoundation is a creamy texture easy to apply and blend. Perfect for the dry skin. Application with a foundation brush with a full coverage and semi glossy finish.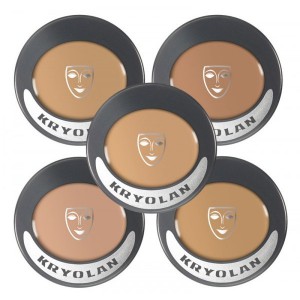 Tip of the day: for a flawless skin and full coverage apply thin layers of the cream foundation. Build it up from very thin layers rather than applying a thick layer creating a mask effect on the skin.
Visit our blog tomorrow we will share with you some lovely infos about the TV Stick foundations and their usage on a bad skin.