Amazing to have the title, 'UAE Business Award Winners 2017' .
Our Boss, " Yasmin Hussain " said that
If someone had told me 5 years ago that YH Studios and The Lipstick Makeup Institute UAE Business Awards 2017, I would have never believed them. We always had faith in her though as she did in us.
What a really great privilege it was to be chosen out of many thousands of companies.
When I received the email I was so surprised. To be recognised for all the hard work myself, The Lipstick Make up institute teams and YH Studios DXB Team put in is just mind blowing.
Best Makeup Service and Photography Studio 2017.
All we can say to this is , WOW!
Amazing!!!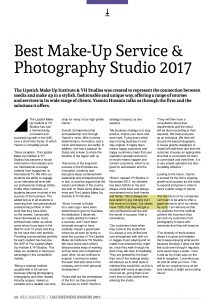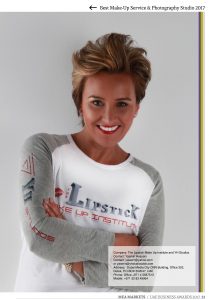 So So proud. We now have been published in the UAE Business Awards Magazine and we have the trophy in prize place on my desk!
It all started with sheer hard work and determination. Not just my hard work though but all the people that have worked with me. Each and every one has given their complete all to whatever project we have done.
The Lipstick Make Up Institute was created to represent the connection between Media and Make Up in a stylish, fashionable and unique way. This is what we always said and kept true to our word.
Success only comes with hard work and keep your goals high. Aim high then aim even higher.
My Business Strategy Is to stay positive, inspire your team to work hard.
A happy team means happy customers 🙂
Faithful and Loyal Customers have ben the rock behind our success . We always try to do our best and give Professional Service to everyone.
We will continue to produce high quality work and improve on what we do.
We also now have a full time videographer who will be making our tutorials every day to give our followers some interesting content.