Steps :
Step 1- Cleansing – we are using the LAQUA tonic
Step 2- For a healthy glowing, dewy skin will use the Kryolan Vitacolor foundation and blend it with a sponge.
Step 3-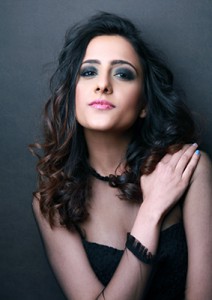 Our models undertones are warm to correct it will use a yellow corrector.
Step 4- Contouring and highlighting with Kryolan Supracolors.
Step 5- Set the foundation with white translucent powder.
Step 6 Define and fill in the eyebrows with dark brown eye shadow.
Step 7- Apply a base colour on the entire eyelid.
Step 8- Contour the upper lash line with black eye shadow
Step 9- For a perfect smokey look smudge the contours with dark brown eye shadow and define the crease lineStep 10 Apply a white gold highlighter under the eyebrows
Step 11- Define the bottom lash line with black eye shadow and smudge it
Step 12- For the absolute glamorous look apply micro pigments on the lid
Step 13-  Mascara on the bottom lash line
Step 14 – Apply the blush and highlighter
Step 15 – Lipstick application