The absolutely favourite full coverage foundation is the Kryolan TV Paint Stick not only makeup artists but anyone loves it who wants a flawless skin just in few strokes.
As a texture is dry and giving a semi matte finish. Perfect for combination skin and effectively reduces the shiny on the oily skin also.
Mostly used in theatre, TV, bridal makeup but can be used for any occasion.
No primer required before the TV Stick. The foundation  will stay for more than 12 hours on our skin with just applying  the TV stick on a plain skin. What is really important to make sure that the skin is dry (not over moisturised and wet because of the moisturiser or primer).  In this case the foundation will stick to the skin and in 40 minutes will absorb.
Because its full coverage we can use it for creating drag makeup and its perfect in blocking out the eyebrows also.
The application can be with a foundation brush and the latex sponge also.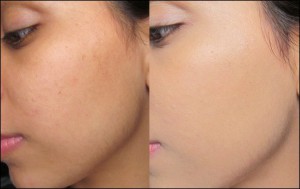 The before and after picture of the Kryolan TV Stick Foundation application
Tip of the day:  apply the TV Stick with a wet sponge for a  natural look if you need more coverage apply the TV Stick foundation with foundation brush.
Stay tuned guys as tomorrow you can read about the HD foundations.