WKND Magazine
                                                                               Khaleej Times 
                                                                   Published  August 4th 2017
                                                                      khaleejtimes.com/wknd
                    Second year running we are very please to have our work published in the Khaleej Times
                                                            Take a look into our Masterclass here at
                                                The Lipstick Makeup Institute and YH Studios
                                                                   to achieve this awesome look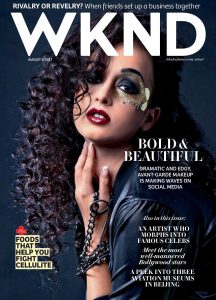 Bold & Beautiful
Dramatic and Edgy
Inspired by Avant-Garde Makeup
Makeup Concept
Avant garde makeup is the absolute opposite of a natural look.
The word avant garde itself is a French term meaning 'advance guard' 
unusual or unique and new
experimental or innovative in nature.
Artistic looks that are often exotic and high fashion makeup styles
You see these artistic makeup looks on the
runway and fashion show models,
for advertisements and special photo shoots,
in fashion and beauty magazines
From whimsical to dark, avant garde eye makeup
The eyes are truly the gem of a great avant garde makeup creation
Creative Makeup
Using Kryolan products
The focus of this artistic makeup is the eyes
The Masterclass
Step to step guide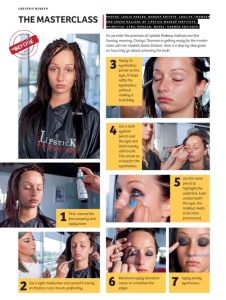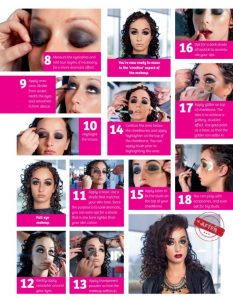 Fun in the Studio
Artistic, dramatic and extreme style of makeup.
You can use multiple shades, or attach bold  false eyelashes for volume
Play with the eyes well by using creative artistry
To make your avant garde makeup look more effective and convincing.
Talented Hair Stylists
Exciting
Grungy smudged
Aside from using cosmetics, there are also other mediums used such as
gems, stones, glitters and feathers.
The look depends on the inspiration of the makeup artist or designer
When it comes to finding an avant garde inspiration, the choices are endless.
As they say, anything goes.
It can be the current fashion trends, characters from movies, books or plays, celebrities, and more.
Its all about getting creative and having fun
You can do almost anything with artistic makeup
Check out the wknd magazine to get the step to step guide on how to re create this amazing look