Another interesting day using Cool UV Makeup  and at The Lipstick makeup Institute. We gave our students  an opportunity to use their skills that they have learnt.  I have them to the task apply simple techniques.
We have a party to attend for Career soon and they want this kind of tribal make up. so the students can have experience at this kind of body spray work I set them thee task. I bought the stencils from the art shop and the paints from, "kryolan". Some are UV and some not. The UV just looks so vibrant though.
We started with the green Cool UV makeup base and to get a clear smooth body spray cover is also an art. Slowly and evenly is always the best. Its better to do a few layers then one really full one as the paint will run. You also get different textures and tones if you apply in the correct way. If you want this of course. It does create more depth rather than one block colour.
After this is applied then we can start with the stencils. As I told the students its best to wet the Aqua colours and dab rather than brush. This way you will get and even effect without brush strokes.
The trick is all to work fast! efficient, confident will work best with this kind of UV Makeup. Also, not to make it look like stencils. To do the work on the arm you have to repeat the stencil 3 times so join the line up! Use free hand. Give some depth to it also by adding some gold or brown to create a 3D effect.
Here are a few shots from behind the scenes and a couple from the final images in the studio.
Please enjoy them, we enjoyed really  creating the look.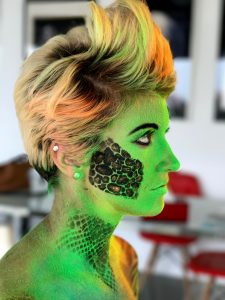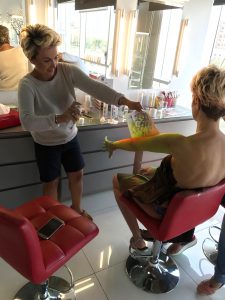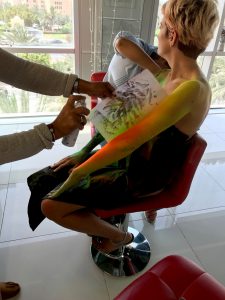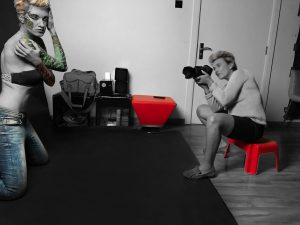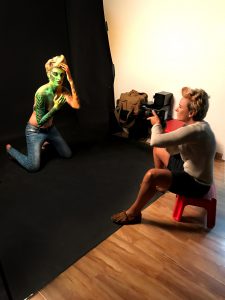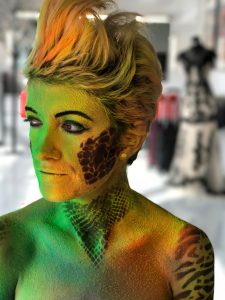 The Final "Images". Cool UV Makeup@ The Lipstick Makeup Up Institute.