If you're a contouring newbie, powder is the way to go. Powder is also easier to blend. If you're hoping to achieve a matte look, powder contouring will help you define your features. You can most definitely be a contouring pro and go this route–it's really more about ease and desired look. Powder on dry skin can enhance creases and make you look more chalky and less fab, so best to use this method if you have oily skin.
These are simply guidelines. You can mix and match product textures if you have different needs or combination skin.
The dry contouring gives you a soft and natural look. It works perfectly for daytime and high fashion looks.
Tip of the day: use greyish brown eyeshadows for contours it will give you a natural look.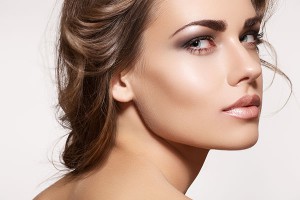 Stay with us tomorrow as we will give you tips how to contour and highlight like the Hollywood Celebrities do.