Your smokey eye style makeup is comprised of a collection of different looks you create. Each element of makeup is characterised by its colour, finish, and performance. If your makeup is chosen correctly and your looks are skilfully combined, you are a woman with makeup sense.
The application
Outline your eye contour with a black eye pencil, all the way around. Make the line thicker along the upper lashes.
With a brush or a sponge applicator, apply your base colour eyeshadow on the mobile eyelid and above the crease, about halfway to the eyebrows, blending slightly.
With a pointy sponge applicator, apply contour colour eyeshadow all the way around your eyes, blending it well with the pencil line.
Half-close your eyes and apply contour colour in the crease.
You will now need to define the outside corners of your eyes using a horizontal "V" shape. The position of the pointy end of the "V" will control the apparent shape of your eyes.
With a medium-sized soft round brush (you can also use a flat one, holding it sideways), blend the eyeshadows on the upper eyelid. With a flat brush, blend the eyeshadows on the lower eyelid.
Repeat your contour colour application with a sponge, as many times as needed to achieve a deep shade. Blend again with brushes after every application.
Apply highlight colour eyeshadow or facial powder under your eyebrows to ease the blending of the dark contour and add some volume to your eye makeup.
For an irresistible deep regard, outline the inside contour of your eyes with eye pencil. Use darker-than-usual eyebrows and lots of mascara to finish the look. Your eyes should now be smokier then ever before!
To keep your bright eye makeup in balance, try a stronger blush, and keep your lips pale with a light gloss application.
Don't forget the perfect smokey eyes are all about blending and practice.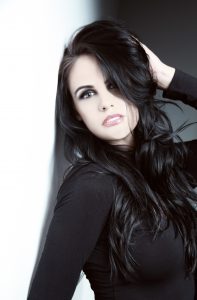 See you all tomorrow as we discuss about Lipsticks and will give you amazing tips how to get perfect lips by applying the lipstick in a correct way