Theres a saying the "Eyebrows are the frame of our face"
They are definitely and this is why we need to make sure that we have the right shape of eyebrows and they are nicely defined.
Don't overdo them!!!
Every part of our face is equally important.
So make sure that your makeup is in harmony with the whole face.
Eyebrows are important such as cheekbones or lips or eyes.
But how to shape them? And how to make them perfect?
First of all you can choose if you like your eyebrows soft and natural or more defined.
If you are in the first group of soft eyebrow lovers all what you will do is:
clean up the excess hair around your eyebrows with tweezers. Clean lines look smooth and sharp
brush your eyebrows with an eyebrow brush
take an angled brush, get a 3 or 4 shades lighter colour than your eyebrows and fill them up
why use a lighter colour? because we want to create shadow between the hair. If you will take the same colour of your eyebrow it will become much more stronger and aggressive. Too dark just looks so false and really doesn't look good. The fashion now is to have amazing eyebrows but must be done right.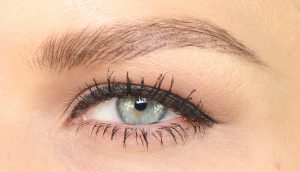 If you like sharp and defined eyebrows:
Make sure that your eyebrows are fully cleaned no hair around them.
Take a concealer and apply a lighter shade around your eyebrows from the top and bottom part.
Take an angled brush and with an eyeshadow what is lighter than your eyebrows draw a line from the bottom of your eyebrows and a top of the eyebrows. Start to blend the two lines together.
Also brush it. Anytime you can add more eyeshadow colour or if you feel its too strong you can tone it down by brushing the eyebrows.
To fix your eyebrows you can use eyebrow gel, it will make the hair stay at the place and will give your eyebrows  a nice shiny look.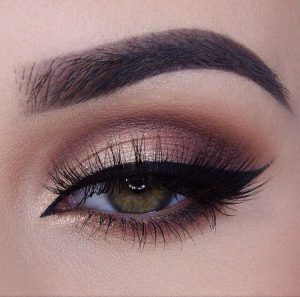 Practice  makes perfect! Always and if you apply this logic to your life then you will not go far wrong.
Don't forget this golden rule.
Have fun creating beautiful eyebrows and don't be scared experimenting with it!
Stay with us for more tips and tricks.
We are a Dubai based Make Up Institute, who is striving to be the best makeup Institute around. 
The Lipstick Make Up Institute is beginning to get a reputation for all the right reasons we are happy to say. If you want to learn the basics, we have a course for you. If toy want to learn advanced techniques, we have a class for you. Anything you need to know we have a class for you. Just call us, email us or Facebook us. We are here always to answer your questions.
Please give us any suggestions or feedback for a subject that you want us to talk about. We will always listen.