Hi there! Today we will talk about how to create and define ombre lipstick!
Ombre means having two different colours that are monochromatic.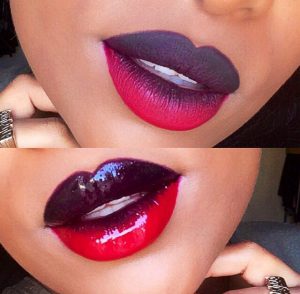 Ombre isn't just for your hair! The sexy, ombré  lip look is one you're going to want to wear always, and shout to the world about it. Be creative and bold with your makeup and try out this ombre lip look.
Ombre lips can look awesome, but if not done correctly they can make you look very tacky! The secret to doing ombre lips is to first try it out with your regular lip colors. Play around with different hues that merge well together and once you are satisfied with the results only then step out into the open.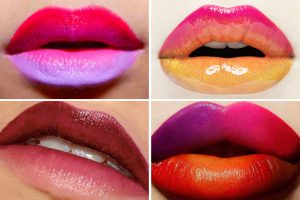 Step by Step Ombre Lips:
Apply concealer over your lips to hide the natural colour.
Use the dark lip liner to create a line around the edge of your lips as you would normally. Add more of this dark colour lip liner to the corner of your lips bringing this dark colour in towards the middle, but do not colour all of your lips with this shade. You can also extend this line and thicken it at the top and bottom of your lip if you wish.
Apply your pale colour to the middle of your lips that do not have the darker lip liner on them. Press your lips together once or twice but do not smear the colours together by rubbing your lips side to side or back and forth. Simply press your lips together and pull apart again in one smooth motion.
At this stage you can use your lip brush or cotton bud to blend the edges of your colours together to create a fading effect.
Thank you guys in tuning in.
Tomorrow we will talk about do's and don't about day time makeup!