Hi everyone today we will talk about on how to make your lipstick stay for long hours.
Rocking red lips is the fastest way to look glam and festive for the holidays. But with so many yummy treats to snack on and maybe a few smooches under the mistletoe, that red lipstick could end up everywhere but your lips if you're not careful. To avoid clown mouth, follow these super-easy steps to keep your lipstick where it belongs—on your gorgeous pout!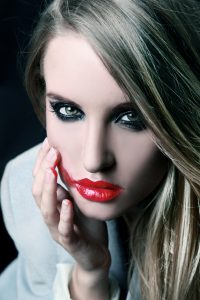 1. Exfoliate. Scrub your lips with the rest of your face while you're in the shower in the morning. A gentle exfoliator will smooth over the flakes that come with winter's chapped lips.
2. Moisturize. With the temperatures dropping faster than you can say "pumpkin spice latté," moisturizing everything, including your lips is key. Stock up on a long-lasting chapstick to keep your pucker from getting chapped and use it before applying lipstick to help it go on smoothly.
3. Prime & Line. Use an easy-to-apply lip primer to set the stage for the bold color. Once it's absorbed, outline you lips in a liner that's the same shade of your natural lip color.
4. Add Your Red. Apply your red lipstick of choice in two swipes. Blot a couple times on a tissue and repeat with another swipe of lipstick, followed by another blot. Do this until you score your desired color strength.
5. Set with Powder. You heard us, powder—on your lips. A light, transulescent powder will help keep the color in place even after you enjoy a huge mug of hot chocolate!
Tips
Always make sure that your lip liner is freshly sharpened so that you're not transferring any bacteria from it onto your lips.
If you want a special touch, just add lip gloss in the center of your lips to create a bright glossy effect.
Blotting excess moisturizer prevents lipstick from sliding off.
It is a good idea to use a nude lip liner since it goes with most lipsticks and doesn't create a harsh line.
It might sound a tad radical but throwing your make-up pencil sharpener in the dishwasher or washing by hand can also be very efficacious in removing bacteria. If you have a twist-up pencil it never hurts to break off the tip and wipe with alcohol before using.
Tomorrow we will talk about the proper way to apply lipliner
Hope to see you again tomorrow!