Final week of the Professional Platinum Media Makeup Diploma Course. We're down to the last topic of the course which is Creative Makeup.
Final Creative makeup, we teach basics of using different mediums such as cream coloured makeup, water based makeup (face paint), body painting and how to stick materials to the skin without damaging it. Besides the Special FX Makeup, Creative makeup is another subject the students look forward to.
Here are some of the works of our students: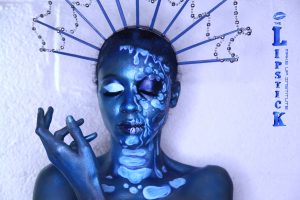 If you want to know more about our courses, you can email us at info@thelipstickmakeupinstitute.com. You can also follow us at our instagram account http://www.instagram.com/thelipstickmakeupinstitute
to see our students works and latest news.
We currently have a 20% discount on our Platinum Makeup Course till the end of next week. Instead of paying 26,250 AED, it's now at 19,999 AED (VAT Inclusive). That's more than 6,000 AED worth of discounts.
If you join our Platinum Makeup Course, you will automatically be part of our makeup team. You'll have the chance to work with us in various jobs and events such as Arab Fashion Week – one of the most awaited fashion shows in the world. We also have different trunk shows wherein you can be a part of, editorial fashion photo shoots, TV Commercials, magazine photo shoots, and events. You will also have the chance to work with famous celebrities, singers, actors and supermodels from around the globe.
We are also working with various makeup brands such as Makeup Forever, Grimas, Kryolan, Inglot, NYX and a lot more. We strive to give our students the best experience while learning how to do makeup and making sure that we have a good relationship with them even after they graduate.
Again, we have discounts for the Platinum Course. So book your classes as soon as possible as the slots are limited.