Amazing Opportunities
Amazing opportunities come our way and the students' every single day in The Lipstick Makeup Institute. Together with our sister company, YH Studios DXB, our students are able to master the art of makeup by joining various real life situations in the makeup industry.
Our students get the chance to work with professional models, celebrities and real clients to create amazing works of art while they build their portfolios.
Time and time again we mention the fact that our Platinum students get a once in a lifetime experience to work with us at Arab Fashion Week – brought to us by the official Fashion Council in the Arab World. This amazing opportunity sets us apart from other makeup institutes and thus gives our graduates an edge in the makeup industry.
Because of all this, our students have an edge who it comes to the makeup field – not only in their portfolios but also their learning experiences.
As we all know, experience is a huge leap in studying. Learning by ear or by sight is nothing unless you practice it. Learning how to do something will be in vain if you don't do it firsthand.
Example, today our Platinum Student is on set for an on location shoot with Mr. Dubai 2019, Max Fardan.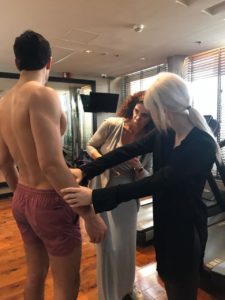 Our Platinum students get a chance to work with us in amazing projects such as this which you won't find anywhere else in Dubai.
So, what are you waiting for? Our next batch of the Platinum Makeup Course is on March 1, 2020. Together, let's explore the amazing world of makeup.
If you have any questions or you want to visit the institute, please don't hesitate to contact us at 052 834 9964 or email us at info@thelipstickmakeup.institute
You can also check out our students works at: